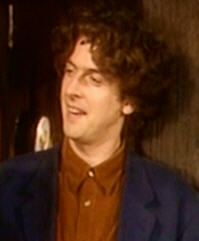 Tristan Campbell is a character in The Vicar of Dibley. He was played by Peter Capaldi.
About Tristan
He is the producer of BBC's Songs of Praise.[1]
Geraldine developed a big crush on him when he came over to her house to see if everything would be okay for the filming of the episode.
Unfortunately, the crush came to an end when Geraldine found that he shared a telephone number with Ruth, the camerawoman, which also upset David, as he had gained a crush of his own for her.
He later asked Geraldine to marry him, she said yes, but as it turned out, she had misinterpreted the meaning of it, as he actually wanted Geraldine to be the vicar at his and Aoife's wedding service.[2]
References