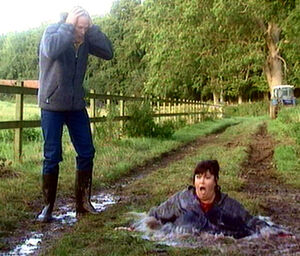 The country lane is a location in The Vicar of Dibley, in the episodes "Autumn" and "The Handsome Stranger".
It is a peaceful walk round the outskirts of Dibley, it is used mostly for picnics. Geraldine and Simon take a peaceful walk down the lane, but Simon is hit by a branch and Geraldine, whilst playfully jumping in puddles, falls into one chest-deep. It is also where Geraldine stalks Harry Kennedy and Rosie Kennedy, which is when she jumps in the deep puddle again.
Events
Here are the events that have happened here.