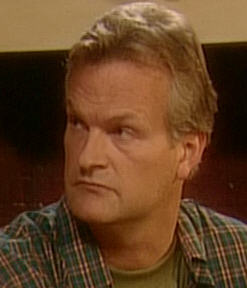 Simon Anthony Louis Horton is a character on The Vicar of Dibley. He was played by Clive Mantle.
About Simon
He went to a drinks party at his brother David's house which is where he met Geraldine. She wasn't wearing any make-up so she had to run back to her house to put some on. He mentioned in conversation that he would love a blonde woman. That same night, the vicar dyed her hair blonde. He was then supposed to be attending the wedding rehearsal which he missed due to traffic on the motorway. He saw the vicar's blonde hair and asked her out to dinner, unfortunately for her, it was was at the same time as Alice's hen party. When Geraldine suggested another night, he told her he would be heading back to Liverpool after the wedding. At the wedding reception, the vicar revealed that she to would be moving to Liverpool, but Simon then revealed that he would be moving in to Dibley, so the vicar stayed.[1]
Simon later returned to Dibley and they instantly began to see each other, beginning with a night of passion which was constantly disturbed by the villagers. They then went for a lovely romantic walk, which ended in the vicars eventual soaking. One night, Simon admitted that it wasn't working between them an that there is someone else in Liverpool and that he would be moving back there. After that the vicar had depression for a while.[2]
After he left, the villagers seem to speak of Simon in a bad way, especially Owen Newitt. When the vicar said to turn the other cheek, Owen asked if that included that Simon bonking her like a beach ball.[3]
Appearances
References