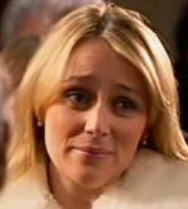 Roseamelle Jessica "Rosie" Kennedy is a character on The Vicar of Dibley.
About Rosie
She is the sister of Harry Kennedy. She first arrived in Dibley to meet with her brother, but Geraldine mistook her for Harry's girlfriend. She has a long walk with Harry as they discuss Geraldine and if Harry is doing the right thing by proposing to her so early on. She takes part in a vision Geraldine has of Harry and herself getting married to the song 'It should have been me', in which she is knocked unconscious by Geraldine at the altar.
She attends the wedding of Geraldine and Harry and is seen smiling during the service. She moves in and takes permanent ownership of her brother's first residence in Dibley, that being almost a next door neighbor of the vicarage.