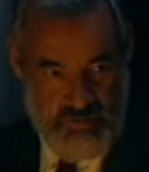 Roger Lloyd Pack (8 February 1944 - 15 January 2014) played farmer Owen Newitt in The Vicar of Dibley.
He is mostly known for playing regular appearing character, Trigger, in the BBC sitcom series, Only Fools and Horses.
He has also appeared in the Mr. Bean episode, "The Return of Mr. Bean", one segment of the episode has the titular character go to a restaurant for a birthday meal, Roger played a waiter who takes Mr. Bean's order of steak tartare, which he thought was normal steak when he ordered it.
Like Dawn French, he has appeared in the movie versions of the Harry Potter books, where he portrayed Barty Crouch Sr.
Roger also appeared in Doctor Who as John Lumic and voiced the Cyber Controller, adding another connection from The Vicar of Dibley to Doctor Who. Another relation is that the Tenth Doctor actor, David Tennant, portrayed the son of Barty Crouch Sr, as Barty Crouch Jr.