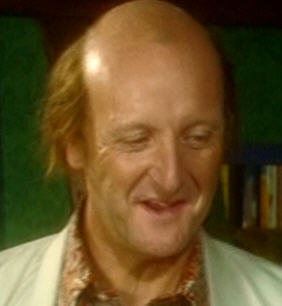 Reg Dwight is a character on The Vicar of Dibley. He was played by Philip Whitchurch.
About Reg
He is the blues musician cousin of Alice whom she hadn't seen for a long time until the Autumn Fair when Geraldine had to find a guest to open the the fair in place of David, who had been doing so for the last few years.
After failing to find someone who could open the fair (including the chiropodist daughter of Babs from The Beverly Sisters), Alice then mentions Reg, who Geraldine mistakes for Elton John after discovering that Elton John used to be called Reg Dwight in a magazine she had been reading, and thus, he was invited to open the fair as they though him to be Elton John.
When he arrives at The Vicarage, Geraldine is shocked to find out that the Reg Dwight they invited wasn't the one they were expecting, as this Reg looked different and played the blues.
Later when Letitia, Frank and Owen come over, they too find out that Reg Dwight is not Elton John, after he questions The Vicar about the confusion, she admits she was expecting Elton John, which upsets Reg.
The news of the blunder soon makes it way to David, who comes over to mock The Vicar for the blunder, even comparing it to events from previous fairs (namely, the time kids had put cannabis in cupcakes), and insults Reg by calling him "Rambling Sid Rumpo".
Luckily, Kylie Minogue was passing by (thinking that Elton was going to opening the fair) and is asked by Geraldine if she could open the fair, which she agrees to do, who is joined with Reg, who goes onto play Elton John music on his saxophone during the fair, along side Letitia on piano, and Owen playing guitar and singing.
After the fair, it can be assumed he went home, as he isn't seen in the Town Hall, helping store the fair equipment for next year.
Appearances