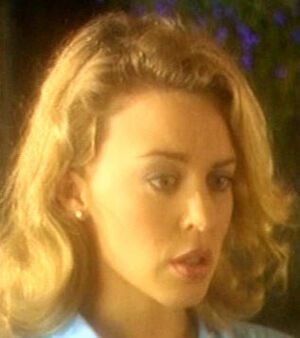 Kylie Minogue (born 28 May 1968) is a singer who appears as guest star in The Vicar of Dibley episode "Community Spirit".
She has also appeared on Doctor Who as The 10th Doctor's companion in the Christmas special episode, "Voyage Of The Damned" as a character known as Astrid Peth, starring alongside David Tennant.
About Kylie
She was asked by The Vicar to be the replacement for Elton John for opening the village's autumn fete, alongside Reg Dwight, Alice's cousin who was thought to be Elton because of a magazine article that mentions that he used to be called "Reg Dwight".
In the episode, "Election", when Geraldine gets be a guest on Badger Radio, she plays Kylie's "I Should Be So Lucky" for Hugo, who was listening at home with David.
It's known throughout the series, that Hugo Horton has a borderline obsession with her, he was even lucky to get a kiss from her in the autumn fair for winning the "Most Misshapen Vegetable" award.