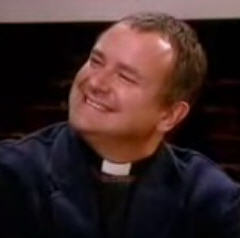 Jeremy Arthur Ogilvy is a character on The Vicar of Dibley. He was played by Hugh Bonneville.
About Jeremy
Jeremy is the vicar at the wedding of Geraldine and Harry. He is an old friend of Geraldine and they have their own special greeting: "God is groovy, God is good, God is king of the neighbourhood!" He has also had a crush on her since their college days and is implied to have had a one night stand/some sort of sexual encounter with her in the past which he refers to as 'that night in Suffolk.' although Geraldine does not remember it. This prompts him to propose to - and sexually proposition - her the night before her wedding but he is immediately rejected. Despite assuring Geraldine he will be professional during the wedding ceremony, he spends the entire service attempting to flirt with her and insulting Harry, even going so far as to substitute his own name in place of Harry's during the wedding vows.
Jeremy likes to call himself the Reverend Uhu, "because couples I put together stick together." He has conducted over 300 weddings, five of which ended in divorce and one in murder.
He was supposed to take over as priest for Dibley after marrying Geraldine and Harry (who technically married themselves because Jeremy didn't do much apart from reject the fact that Geraldine wasn't marrying him). Although Geraldine announced that he would be taking her position after her wedding, she later decided that Jeremy wasn't cut out to be Dibley's vicar at the same time that Jeremy revealed to her that he agreed to take the position in hopes of marrying her, so Geraldine withdrew and took back the title as the Vicar of Dibley.
Appearances