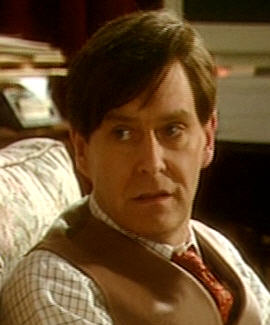 Hugo Zachary James Horton is a character on The Vicar of Dibley. He was played by James Fleet.
Biography
He is the son of David Horton. He married Alice Tinker in 1998 against his father's wishes. He is usually bossed about by his father and ordered on what to do, although David just wants what's best for Hugo in the end.
His father ended up having the council meeting, when Mrs. Horton went into labour, in the maternity room while Mrs.Horton gave birth. He was named during the "any other business" portion of the meeting. His mother left Hugo with his father. He attended boarding school as soon as he was old enough. Four years in, David decided to enroll Hugo in school in the village.
Alice
Hugo has fancied Alice ever since the first episode, when he looked upset when David suggested she should get fired by the new vicar. Hugo once nearly kissed Alice on the episode 'The Christmas Lunch Incident' when they were standing under the mistletoe. They had always known that they loved each other but have been too shy to express their affection until Geraldine stepped in and forced them to kiss each other. Once they began kissing, they did not stop for four and a half hours. They married in 1998 with Geraldine conducting the service. Alice became pregnant(though she didn't know until she was six months pregnant that she even was pregnant) with their first child soon after and gave birth on Christmas Eve the next year during the Christmas pageant,in which Alice was portraying Mary. Hugo fainted during the birth. He regained consciousness just as Alice's baby was being born.
Personality
Hugo is perceived as a dim-witted but loving man whose heart is in the right place. His father David in certain that he is a foo,l and disagrees with many of his decisions.
Although Hugo has always stood up for his father, he has only once stood up to his father, in the episode 'Engagement' win which the two argued about Hugo intended wedding of Alice.
He also seems to like Star Trek as he has made references to the show, such as in the episode 'The Window & The Weather', He stated,in various contexts;"That is logical, Captain," "Live long and prosper" (while performing the Vulcan salute) and "Good work, Mr. Spock."
Family