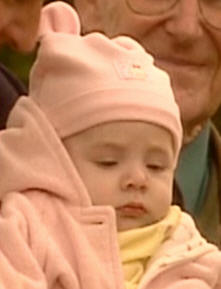 Geraldine Lala Granny Ainsley Harriott Horton (born 24 December 1999) is the first daughter of Alice and Hugo.
She was born during the Dibley Christmas Nativity when Alice was portraying Mary, coincidentally in the scene when Mary gives birth to the baby Jesus.
Alice originally wanted to call the baby 'Vicar' (as a tribute to Geraldine), but Geraldine convinced her to call the baby Geraldine Horton.
Her middle name Lala is after her mother's favourite TV character, Granny is after her mother's Grandmother, Ainsley Harriott is after her mother's favourite TV chef.
Alice and Hugo's original full name for Geraldine was to be Geraldine Wendy Nana Peter Pan Tinkerbell Tiger Lily Captain Hook Crocodile Horton.
Trivia
She has 9 unnamed siblings, because her parents don't know how condoms work according to the vicar
Her godfather gave her a plastic spoon,"Gerald" engraved, for her christening
Her grandfather's old friend christened her
She wore a bathing suit for a christening gown
There a statue of her standing up in her cradle on the Dibley green
Appearances