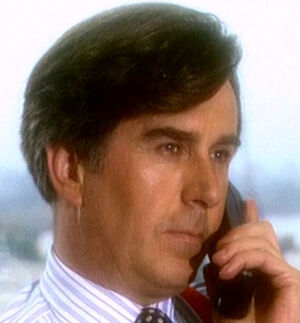 Daniel Frobisher is a character on The Vicar of Dibley. He was played by Nicholas Le Prevot.
About Daniel
He is a wealthy businessman and old friend of David Horton.
When Geraldine needed money for a new window for the church, she asked Hugo for a list of five of his fathers richest friends. Daniel was the only one who listened to Geraldine, as she had lied to him since other investors were turning her away since she was a part of the church, telling him that she was with Dibley Investments.
They managed to arrange a lunch time meeting, and when Geraldine appeared in his office on the day, she reveals she is a vicar, who ended up lying so she could be heard, and informs him of the real reason why she contacted him.
He agreed to pay £10,000 to forward to the new church window, and he was there at the unveiling of the window, finding out that only £500 was put forward towards the new church window, which was a basic orange-tint window, the rest of money was donated to an earthquake appeal, on which Geraldine later watched a news story.
Appearances